WELCOME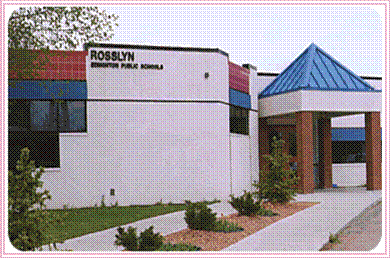 See more information on this website about registering new students using our online forms (go to the "For Parents" tab and choose "Registration" for further information and document downloads).
Please note that Rosslyn School is closed in Grade 7, 8 and 9 in the regular program for families outside of the school's attendance area. We are still accepting registrations in all grade levels if you are a resident of Edmonton Public Schools and have newly moved into our attendance area after April 15, 2020.
A resident student of Edmonton Public Schools has at least one parent or legal guardian that is non-Roman Catholic and who resides within the City of Edmonton. Non-resident students may only enrol in another Division school with space remaining in planned classes.
At Rosslyn Junior High, we provide students with meaningful opportunities to explore their interests, discover their talents and grow academically. Together, we work collaboratively with families to ensure each student achieves their full potential. We offer:

• a talented and caring staff
• an abundance of technology - SMART Boards, Chromebooks, computer labs and wireless network
• a dedicated lunch room area (available hot lunches usually offered 3-4 days of the week)
• instruction that focuses on developing students' citizenship skills
• support for students and their families through community partnerships
Please note: This website is meant as a general information site and will not have too much by way of specific information other than the school calendar. All other information such as newsletters, teacher contacts, field trip details, homework, attendance, etc. will only be posted in SchoolZone. Please contact Mr. Prokopiw (mike.prokopiw@epsb.ca or 780.453.1576) if you require log in credentials or other assistance.